Admissions
Option Manager
Jennifer Campbell
jennicaltech.edu
To apply for admission to the graduate program in the Department of Mechanical and Civil Engineering (MCE), you must submit an application, available through the Graduate Admissions Office.
In a typical year, between 250 and 300 applications for graduate study in MCE are received, and 25-30 offers of admission are made. Admissions decisions are made by a faculty committee based on both by the research opportunities in the applicant's area of interest and the competitiveness of the applicant's application.
The degrees of Doctor of Philosophy and Master of Science are offered. The program emphasizes Ph.D. level study and research. We do not have a Masters of Science only program. Only in exceptional cases is there admission to the Master of Science program as the final degree objective.
As preparation for advanced study and research, entering graduate students are expected to have a thorough background in undergraduate mathematics, physics, and engineering. An outstanding four-year undergraduate program in engineering, sciences, or mathematics should provide a suitable background. The qualifications of each applicant will be considered individually, and, after being enrolled, the student will arrange his or her program in consultation with a member of the faculty.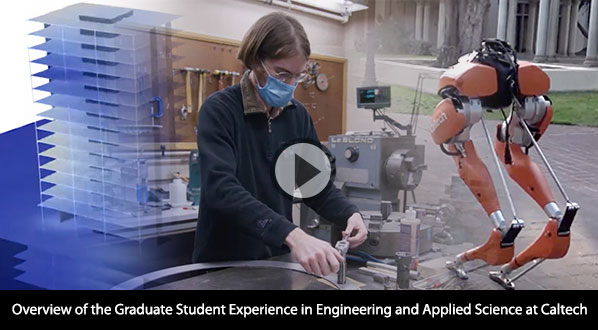 MCE Graduate Application FAQ
When is the application deadline?
December 15.
When will I hear about a decision?
Decisions are typically in mid-February to early March. If your application is selected for an interview or admission, you will be first informally notified by an e-mail from MCE. Official admissions decisions will be sent later from the Graduate Office.
How much does it cost to apply?
There is a cost of $100 to apply to graduate school at Caltech. Fee waivers are available as discussed next.
Is there a fee waiver? How can I request a fee waiver?
A fee waiver is available and we encourage anyone for whom the fee represents a burden to apply for one. The fee waiver is available within the online admissions system and is submitted to the Graduate Studies Office.
Does requesting the fee waiver influence my application for admission?
Absolutely not. Admissions committees and potential faculty advisers do not have access to information regarding fee waivers. If the fee, which supports the Graduate Admissions Office in processing the applications, represents a burden, please request the waiver without concern.
Is there a minimum GPA requirement for admissions?
There is no GPA requirement for admission but the GPA is a factor for admission. We are aware that average GPAs vary by institution. If there are special circumstances that have affected your GPA, please discuss them in your statement of purpose.
Do I need to take the GRE to apply?
We are not accepting submission of GRE scores for application to our graduate program. Self-reported GRE scores will not be considered .
What are the criteria for admission to Caltech?
There are many routes to Caltech including some that are considered 'non-traditional'. No matter your route, we admit students who have most of the following attributes: strong letters of recommendation from those who know the applicant well and can speak to their ability to be successful in PhD studies; research ability as demonstrated by research experience in courses or additional projects; interest in research areas that are represented at Caltech as expressed in the statement of purpose; the academic background needed to be successful at Caltech (strong transcript in a rigorous curriculum that includes significant quantitative science and/or engineering coursework); and the record indicative of dedicated attitude and perseverance.
Should I write to a faculty member if I am thinking about applying and have interest in the research in the specific lab?
Absolutely! Admissions to MCE are done by a faculty committee — you will be admitted to a Caltech program but not directly into a specific Caltech research group. However, your research interests need to overlap, in a broad sense, with the research directions pursued by Caltech faculty for you to be admitted to the program (since you will not be able to find a suitable advisor at Caltech otherwise). So, as you develop your application, make sure to think about several faculty members in MCE and related departments (GALCIT, Materials Science etc) whose groups you may be interested in joining. It is helpful to the admissions committee to mention in your application letter those faculty members that you think could be suitable advisers for your research interests. Some faculty members have dual appointments in different options (even divisions), so it is best to contact them individually if you are unsure which option to apply to. Here is a list of MCE faculty.
Which faculty members are accepting students for next year?
As discussed, admissions are done by a faculty committee to the MCE program as a whole, not to individual faculty groups. There is no list of professors who are accepting students as situations are often in flux. The MCE faculty welcome emails requesting information on the likelihood that there will be space in individual labs. This is also often a good way to learn about new research activities in MCE.
What should I write in my Statement of Purpose? How long should it be?
Requests from the application prompt, which reads: "Provide a brief statement of your scientific and professional interests and objectives and explain why you are interested in graduate studies at Caltech. Include a description of your past accomplishments that are not evident from the examination of other documents submitted, including research in progress. Discuss the most influential science or engineering experience you have had. We are interested in how your personal background has equipped you to work within diverse communities and situations where you faced and overcame a challenge."
Hence your statement should cover at least the following aspects:
Your research interests and why MCE at Caltech would be a suitable fit; mentioning two or more MCE faculty with whom you would like to work is a plus;
Research, educational, professional, or personal experiences that qualify you as a researcher, including any work in progress;
Concrete examples of how you solved a challenging research or coursework problem;
Thoughts about your future career paths and why Caltech is a great choice for you;
Extenuating circumstances and how you have overcome any challenges that have impacted your career path thus far.
Am I allowed to defer an offer of admission?
Deferrals can be granted on a case-by-case basis after the student has been officially admitted.
Who should I contact with further logistical questions about applying?
For further questions, you can reach out to the Graduate Options Manager for MCE, mceoption@caltech.edu.