David G. Goodwin
Professor of Mechanical Engineering and Applied Physics, Emeritus 1957–2012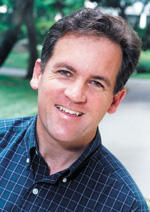 David G. Goodwin was Professor Emeritus of Mechanical Engineering and Applied Physics at Caltech. Born on October 15, 1957, he grew up in Rancho Cordova, a suburb of Sacramento, near the Aerojet plant where his father worked as an engineer. Professor Goodwin was best known for developing ways to grow thin films of high-purity diamond. Diamond films—transparent, scratch-resistant, and efficient dissipaters of the heat generated by high-powered computer chips—are now routinely used to protect electronic and optical components, and diamond-coated drill bits can be found at any hardware store.
The Mideast oil crisis of Goodwin's teenage years sparked a lifelong interest in energy issues, and much of his work revolved around the intricacies of combustion. He fluently translated the complex interplay of heat flow and atomic behavior within swirling mixtures of turbulent gases into detailed mathematical models that accurately predicted how real-world, industrial-scale chemical processors would operate.
Professor Goodwin earned his BS in engineering from Harvey Mudd College, and his MS and PhD from Stanford University, both in mechanical engineering. His honors include five years as a National Science Foundation Presidential Young Investigator and two NASA Certificates of Recognition for his diamond-film work. He was a member of the Electrochemical Society, the American Chemical Society, the Combustion Institute, the American Physical Society, the American Society of Mechanical Engineers, and the Materials Research Society. He wrote or co-authored more than 60 papers.
In his spare time, Goodwin was an accomplished guitarist, a skilled woodworker who made several pieces of furniture for the family's Craftsman house, and a prolific artist.
Professor Goodwin passed away at his home in Pasadena on Sunday, November 11, 2012, after a five-year battle with brain cancer and a struggle with Parkinson's disease that began in 1998. Goodwin is survived by his parents, George and Verma Goodwin, of Cameron Park, California; his sisters, Ellen Goodwin Levy of Sacramento and Jennifer Goodwin Smith of Elk Grove; his wife, Frances Teng; and his children, Tim, 18, and Erica, 15.
To make a gift to the David G. Goodwin Memorial Fund, please contact Lynn Seymour (lynnbcaltech.edu) or follow the instructions here.
Many Trees by David G. Goodwin