Amphibious Cleanup!
2008-2009 ME 72 Engineering Design Laboratory and Competition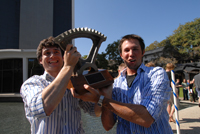 THE MISSION
Design and build your amphibious craft to crawl into and swim across the pond - clean up the floating debris - deposit your cargo on the other side - crawl out and claim your place at the top of the bridge!
CHALLENGES
The contest is a double elimination tournament where teams comprised of two students each will compete head-to-head. Each team's entry will be placed in a launching zone, a 1 meter x 1 meter square area which will be positioned on the south side of the Millikan library pond, to the east of the bridge over the pond. Each team (consisting of two people) will have 45 seconds to place their system within the launching zone, and then a 3 minute period during which all of the scoring takes place. The goal is to gather floating balls and place them in scoring bins. Scores will depend upon the colors of the balls, and the difficulty of the scoring bins' placement. Additional points can be gained if one or more contest vehicles end the heat within a scoring zone on top of the bridge.
The Teams
Team Number

Team Member

Team Name

1

Julianne Gould
Tzong-Lian Tsay
Robotic Hamster

2

Colin Ely
Kevin Tjho
Professional Ball Handlers

3

Marshall Grinstead
Edmond Wong
Ramen and Cheesesteaks

4

Michael Gherini
Sarah Li
Team Exploding Whale

5

Eric Johlin
Ga Lee
Aryan Safaie
Deth Frog

6

Ruslan Kurdyumov
Mark McDuff
Stanislava Petkova

Devil's Threesome

7

Kevin Noertker
Marc Sells
Newt N' Salamander

8

John Hasier
Benjamin Reinhardt
Team Venture